For once, I planned to write a snark-less (maybe) blog post about our trip to Boston/Cambridge to deliver the eldest daughter to MIT. You know, pictures of famous landmarks, our having fun etc. etc. Only I didn't get to go, and this is why...
1. Tuesday night, three days before we're due to fly out, my daughter calls from the next town where she's been visiting her boyfriend. She says she's on her way home BUT she has a stomach ache, a little like the pain she had when she had a bout of appendicitis this summer in Italy (still never got around to writing about that saga). So, despite being exhausted, I stay up late to check on her. She gets home OK and doesn't seem too bothered - she decides to sleep on it. We cross our fingers.
2. She gets up close to lunch time the next day and says she still hurts, but not half as badly as when she had appendicitis. She wants to wait it out, but I check in with my husband, and he orders her to go to the doctor at once. Which she does, meaning I have to cancel middle daughter's violin lesson as I no longer have a vehicle.
3. A little later, the doctor (a friend from church) calls. Magdalen has obviously been trying to persuade him to take the European route of prescribing antibiotics. The only thing is, apparently they just don't do that in the US, and he has no prognosis for that course of action. With my permission he persuades her to go across the road to the hospital for a CAT scan. My husband leaves work to join her. Next thing we know, she's headed for surgery. It's now less than 48 hours before we were supposed to fly out to Boston. However, it's laparoscopy surgery, and the surgeon assures her and us that she should be able to travel in a few days.
4. Husband pops home from the hospital to take the rest of us to meet her as she gets out of surgery. We spend the time waiting in her room, with the baby alternately getting testy and spitting up over the floor. I hope baby spit-up doesn't have too much bacteria in it. I was tempted to take a photo of her room for the blog, but I thought the rest of the family would think me weird. I was also slightly tempted to take one of my daughter in recovery, but I knew she'd cut me out of her will. So, no photos. I stay until the baby is no longer manageable, but my poor husband gets to stop at the hospital because my daughter doesn't seem very sure the hospital staff will
do her bidding
understand her needs.
Husband gets back very late, then stays up checking on changes to flights, hotels etc. My ticket was a companion deal and can't be transferred, so it would be an extra $1400 for me to go, on top of a more expensive hotel room. Plus, our struggles in the hospital make it clear taking the baby would not be helpful. God sends a final sign when I get a text the next morning that our pet sitter has had an accident and couldn't come to take care of the house anyway. No Boston for Alcuin and me.
Didn't get to see this.
But the baby got one of these.
5. That same morning, we're just off to fetch Magdalen home, when text alerts from campus start buzzing: there's apparently an active gunman at MSU. I call out to my middle daughter: "Band's going to be cancelled, there's a gunman on campus. See you later." Yes, I did. What can I say? Things were falling apart. Luckily, she has enough of my husband's mathematical logic to figure out she's safer 7 miles from campus than in the car with us, heading to town.
I spend the drive to the hospital checking texts, worrying about my students, and wondering if we'll even get in to the hospital under the circumstances. Hooray, we get in, but everyone is constantly checking messages, and it's had to concentrate on getting my daughter out of there. Eventually, it turns out the 'gunman' only threatened to shoot others and himself but didn't actually have a gun. But classes got cancelled until mid-afternoon, which was a score for me because I couldn't have made it anyway.
An aside: here's a police woman strolling to the scene with an assault rifle and high heels because this is Mississippi, ya'll, and no lady steps outside unless she's looking her best.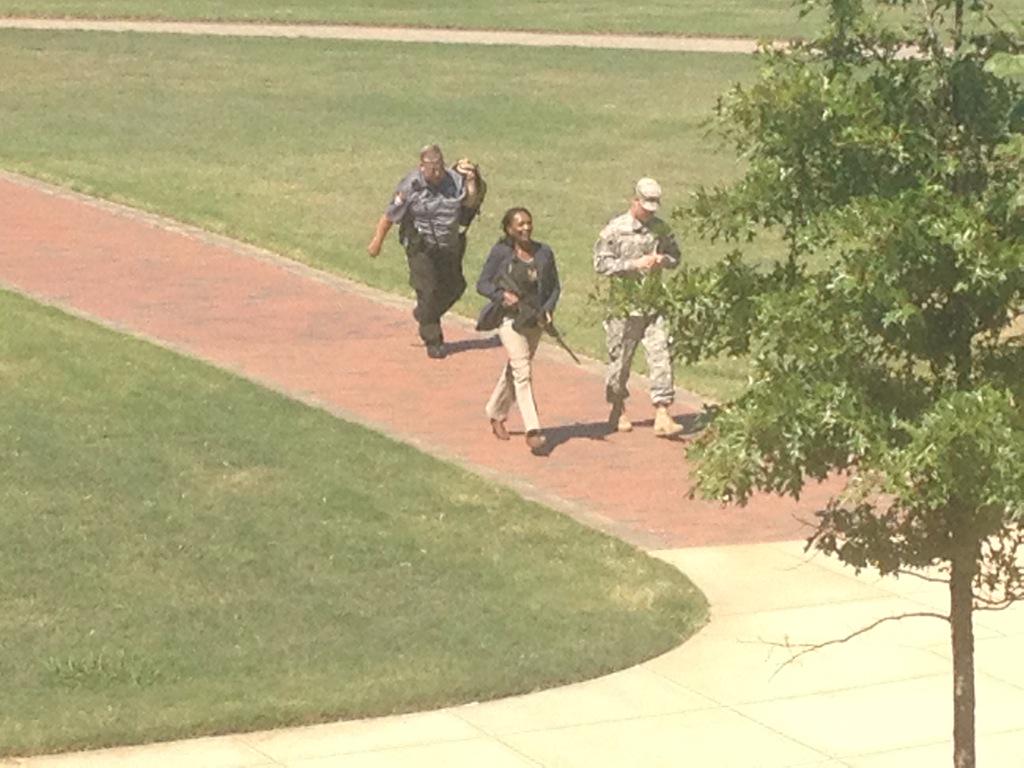 6. So, I spend the next couple of days packing under my daughter's instructions, but I'm still losing my mind, because I pack enough cutlery in her carry-on for a culinary massacre on the plane, and my husband has to run it out of security and stow it in his truck (thank goodness for small-town airports where everyone knows you).
This, by the way, was the same airport where a young couple
were stopped
on their way to join Isis, which baffled me because they must have known half the people on the plane, and how do you make casual chit-chat about eloping to Turkey and crossing the border to fight for terrorists?
7. But... my daughter is safely at MIT, recovering wonderfully with lots of help from Student Support Services, and began classes this week. And a large Amazon package arrived from her yesterday - full of her textbooks. She'd forgotten to change the shipping address.
Hope your week has been good. Join Kelly at
This Ain't the Lyceum
for more Seven Quick Takes.